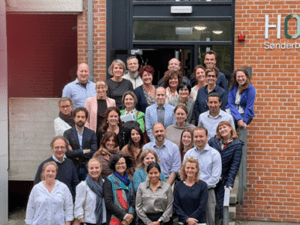 Nineteen partners from eight European countries, led by South Denmark, form a consortium for four years to establish seven Regional Vocational Excellence Hubs which will develop, test and offer future-oriented skills for the healthcare sector. The seven regional hubs (Denmark, Germany, Italy, the Netherlands, Norway, Slovenia, and Spain) will connect on a European Platform for Vocational Excellence in Health Care. The objective is to ensure coordination, adaption, innovation and upward
On 15 and 16 November, the Forum on Vocational Excellence 2022 gathered in San Sebastian to discuss the latest developments in the field of Vocational Education and Training!
The event aimed to mobilise the participation of different VET centres and relevant stakeholders to reach the European target of establishing at least 100 networks of vocational excellence by 2027.
The EUVECA project welcomes the launch of the European health multistakeholder partnership on skills gaps and emerging occupations!
The event is hosted by BeWell Project, the EU-funded project designed to promote the upskilling and reskilling of the European health workforce.
Read more here